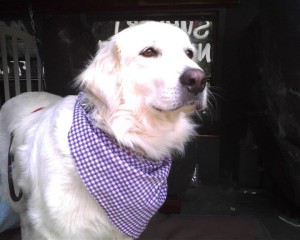 To begin your adoption process of a rescued Great Pyrenees, we ask that you answer the questions below.
We place all of our dogs as inside pets with outside privileges and require a securely fenced yard. We do make exceptions for certain dogs based on their history if no fence is available and you have an adult only household.
You must be 25 years or older to apply for a dog to adopt and own your own home. We do not adopt to condominiums as due to the close proximity of the units, a breed bred to bark can be a problem in close quarters.
We do not adopt to families with children under 5 years of age. This rule is for the safety of the child and the well being of the pet. Toddlers are curious and dogs never exceed the mentality of a 2 year old, so they do not consider consequences for their actions, they only react to situations. Young children can get scratched, bitten, snapped at or nipped. It is usually not a vicious act, only a reaction to the situation. Usually either the dog or the toddler are innocently harmed and the dog usually pays the price of losing their home again. If you currently do not have children, but are planning on them in the future, you need to take into consideration the adoption of a dog seriously and commit to keeping the dog after your children arrive and monitor them closely with the dog. Never leave young children alone with a dog.
Your references provided will be verified prior to application approval. Please contact your vet's office to let them know we will be calling them and give them approval for you to release your records on your animals. In checking your vet references, if your pets have not been kept up to date on vaccines, have not had annual heart worm tests or been given preventative on a year round basis, or if you have unsterilized existing pets and are not willing to spay or neuter them with the exception of medical reasons, this can will be cause for you being denied adoption approval.
Thank you for your interest in a rescued Great Pyrenees.
---
This questionnaire is prepared for the benefit of you, the prospective owner, and the Great Pyrenees that you plan to have become a part of your farm family. Please answer all questions thoroughly. We prefer you to fill out the on-line form, but you may download a print version here.